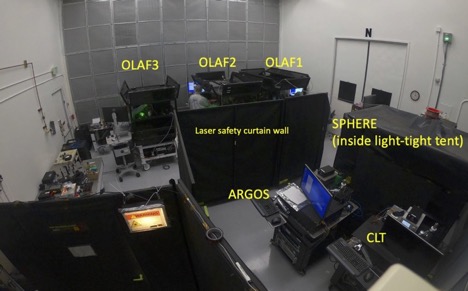 The GLAMR facility is fully mobile but test facilities are available on-site at NASA/Goddard.  While GLAMR can come to the instrument under test, considerations for which system travels should include the portability of the instrument to be tested including ground support equipment and associated environmental requirements as well as schedule limitations.
The GLAMR lab at NASA/Goddard includes space to test smaller instruments with no need for clean or TVAC conditions. 
The photo shows the GLAMR system set up on-site at Ball Aerospace in Boulder Colorado for the characterization of the Operational Land Imager in 2019.  The facility was transported to Ball in a temperature-controlled, air-ride tractor trailer. All the GLAMR components are on wheels for easy mobility.
Typical Schedule for Deployment
A typical schedule for a GLAMR measurement campaign where GLAMR travels to the instrument location is listed here. 
- Initial discussions (as far before the test as possible)
- Establish a rough instrument test date
- Establish basic test outline (wavelength range and step sizes, radiance levels, light/dark times, allotted test time)
- Establish requirements on the GLAMR system for the test (stability, uncertainties)
- If GLAMR needs improvements, start on them until ~1 year out from test
- 1 year before the test: Schedule discussions begin in earnest
- Work out test conditions (TVAC/ambient), how long will proposed measurements take, will they fit in the allotted time on the instrument calendar
- Start bi-weekly meetings for with instrument test team and cal/val or science analysis team to communicate test details
- Site visit by GLAMR team to review allotted lab space and test environment
- 4-6 weeks before the test: the GLAMR facility is set up in the allotted space at test site
- Pre-ship review confirms that GLAMR is ready for the test
- Gets GLAMR on-site and functional off the critical path
- Perform initial calibration of the GLAMR system, required for instrument test
- If there are additional optical elements in the test (ie a TVAC chamber window), an additional calibration is run when possible)
- 3-4 days before the test: GLAMR personnel return on-site to verify system functionality
- 1 day before the test: align sphere in front of instrument, run dry run measurements
- Instrument test
- OLI, VIIRS, OCI all required 11-14 days of two shift GLAMR operations
- GLAMR does not have the personnel to support three shifts
- At the end of test, a consent-to-break meeting establishes that all requirements have been met and GLAMR is free to move the sphere
- 1-7 days after the test: GLAMR runs another calibration to verify stability of the GLAMR system
- GLAMR packs facility and ships home
GLAMR On-Site Facility Requirements
The GLAMR facility requirements for the measurement location:
- Enclosed lab space of at least 400 sq feet for the laser systems
- Most of the space will be a laser-controlled area
- Should be within a 12m fiber run of the location of GLAMR sphere during the instrument test
- Room temperature stability is required for better laser performance.  No more than 2F variation over a day.
- Space for the integrating sphere and electronics rack in front of the instrument during the test (~30 sq feet)
- at least three 20A circuits in the laser-controlled area and one 20A circuits in front of the instrument under test
- a dry gas line for nitrogen purge
- ¼ in swagelok tube fittings
- desk space outside of the laser-controlled area (at least two seats for analysts)